《食人獸》
Duration: 19 mins
For Large String Orchestra (14.12.10.8.)
First Performance:
January 20, 2011 at Zellerbach Concert Hall, Berkeley, US
Conductor: Joana Caneiro
Commissioned by the Berkeley Symphony Orchestra
About the Work
In 2009, I began to use a series of title that are based on mythology fables for my works.
He looks like a part of us and yet he is never one of us.
The Mantichora, the Man-eater, devours his prey whole.
Sounds of besieged, a realm unveils. The edge of the body imperceptibly crosses over into the world of predators. A turf of immanence.
*A Manticore is a gigantic red lion, with human face, and three rows of teeth.

–Du Yun
Press
July 20, 2013
By Jim Farber
January 20, 2011
If the 33-year-old composer Du Yun had been born in her native Shanghai during the dark, repressive days of the Cultural Revolution, her musical vistas would have been decidedly limited. But, as a member of China's hip, young, plugged-in generation, she found the culture of the West hers for the taking.
Yun's eclectic jukebox of greatest hits, she says, includes everything from Bach and Beethoven, Ligeti and Berio, to Heiner Goebbels and Gavin Bryars, the performance art of Yoko Ono and Laurie Anderson, the pop tunes of Prince, the driving pulse of DJ Crash, and even the noise-music of Merzbow.
A year ago, the Berkeley Symphony and its music director, Joana Carneiro, commissioned Yun (who lives in New York City and teaches at the State University of New York at Suny Purchase) to compose a new work for the orchestra.
That process will reach fruition on Jan. 20 at UC Berkeley's Zellerbach Hall when Carneiro conducts the premiere of Mantichora, for string orchestra. Yun's 12-minute composition will be followed by a performance of Olivier Messiaen's evocative Oiseaux exotiques, featuring pianist Natasha Paremski, and the concert will conclude with Beethoven's Symphony No. 6 in F Major ("Pastoral").
"My generation does not have the burden of the Cultural Revolution," Yun explained, speaking from her home in New York. "Western culture was a big part of how I grew up. I am not nearly as aware of my Chinese references as is a composer like Tan Dun, who I know and love.
"I am a member of this young generation," she continued. "We are more fearless about what we can do. I grew up karaoke-ing to pop songs, as well as practicing Bach eight hours a day at the Shanghai Conservatory. To my mind, it's never been a question of 'high art' and 'low art.' Movies and multimedia have drastically affected how we perceive art; we're used to multitasking. That's how I feel about my music. I don't make a distinction between writing and performing my songs, working with a dance company or composing a piece for string orchestra. It's all very seamless for me."
Mantichora, Yun admitted, is a deliberate misspelling of the word manticore — a mythical creature with the face of a man and the body of a lion. "I just loved the way it sounds, even though it is misspelled," she said with a laugh. "I discovered it in The Book of Imaginary Beasts, by Jorge Luis Borges," said Yun. "But it's not meant to have any programmatic reference. It's not like the vibrato in the strings means 'at this moment the manticore is eating us up'!"
In fact, Yun said, Mantichora's real inspiration came from a very different source. It was three in the afternoon and Yun was standing on a rooftop in Cairo, Egypt, with the city spread out all around her. At that moment, from minarets near and far, voices began to chant the Muslim call to prayer. Transfixed, Yun listened as the voices echoed and layered and reverberated into an exotic
chorale. It was this layering and phasing of melody, she says, that provided the core idea for her composition, though, she points out, it is not meant to be in any sense a literal evocation of that moment.
"I think of myself as being a little bit of a storytelling composer," she said. "But for me, storytelling doesn't have to be linear. It can be Kafkaesque, or like the writing of Borges. It's all about luring people into a world all its own."
In addition to her taste for Western music, Yun said she incorporates a great deal of microtonal effects and melisma in her music, particularly in Mantichora.
"I regard myself as a gestural composer," she explained. "For instance, in Western classical music, pitches are very important. But when you listen to Persian music or Mongolian music or Tibetan music, it's more about nuances in the vibrato that lead from one frequency to another to create gestural phrases."
The effect, Yun admitted, caused some consternation for the Berkeley Symphony's players.
"They had technical concerns when they first received the score," she said. "The principal cellist said the tempo was too fast, unless a sense of oscillation and vibration was the effect I was looking for. And I told her that was exactly what I was going for. I told her I don't really care about pitch — it's an approximation. For me, the score is a form of documentation of what I want," she said. "It's like a map. But it's not the treasure itself. That comes in the performance … I hope," she added with a laugh.
By Georgia Rowe
Published January 21, 2011
…
The program opened with "Mantichora," a Berkeley Symphony commission receiving its first performance. Named for the half-lion, half-human beast of myth, the 12-minute, single movement work for string orchestra introduced Du Yun as an artist of enormous promise; the 33-year-old, Shanghai-born composer produces rising waves of sound — brooding low strings, anguished outbursts from the violins, wistful, dreamlike episodes — while suggesting an underlying reservoir of fiercely coiled energy. This was nature at its most elemental; conducted by Carneiro with focused intensity, it made you want to cage Messiaen's birds for their own protection.
Read more
July 11th, 2011 Tags: composers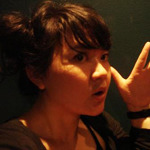 SAN FRANCISCO — Talking to Du Yun, one gets the sense of many careers proceeding simultaneously. Orchestral music, opera, pop, performance works – all are facets of the musical life of the Shanghai-born, New York-based composer.


The music world is taking note on multiple fronts. Recent commissions include "Mantichora" for string orchestra, which received its premiere by the Berkeley Symphony under Joana Carneiro in January 2011. The San Francisco Contemporary Music Players played her "Vicissitudes No. 1" in March (2011); in September, the International Contemporary Ensemble (of which she is a founding member) will give the world premiere of "An Angel's Bones" at Philadelphia 's Mann Center.
A winner of the Detroit Symphony's Elaine Lebenbom Memorial Award for female composers, Du Yun cites influences ranging from Elliott Carter to Kurt Weill, from Björk to Xenakis. She's just as likely to find inspiration in Peruvian and Egyptian folk songs. She believes there's simply no reason to confine herself to the single category of "contemporary classical" music.
"I'm very much an intuitive writer," she remarked when we met in the Bay Area following a rehearsal for the Berkeley Symphony premiere. "I'm always interested in blurring the boundaries between mediums."
Indeed, her music reveals an original voice – one that has been described as "electrifying" by the New York Times and "impeccably powerful" by Le Devoir of Montreal. "Mantichora," named for the half-human, half-lion monster of mythology, trades in insinuating harmonies and granite blocks of sound broken by sudden jagged upheavals. The Berkeley premiere was gripping; the Financial Times of London said "the writing bespeaks great confidence while the trajectory does, indeed, suggest a monster unleashed and subdued."
"My music tends to sound that way – very energetic, very visceral," Du Yun said. "But as a composer I feel that I write out of this boundless grief. It's not personal. In Asian culture, we do believe that memory sometimes outlasts existence. I started composing very young, and I've always felt this kind of urgency."
Du Yun might be called an accidental composer. She began piano studies at age four and enrolled in the Shanghai Conservatory at six. The work was grueling, she recalls – eight hours of study each day – and, like many prodigies, she seemed destined for a career as a concert pianist.
Oddly, it was an affliction that sent her into composing. "I had asthma growing up, so my heartbeat was always fast," she explains. "It's a fun story to tell now, but it was not a fun story growing up. I was a top student, playing Liszt and Chopin etudes. But I would start playing at one tempo and end up with a completely different tempo. I couldn't control it; my heart just beat faster. Then I would start to improvise. Finally my piano teacher said 'Maybe you should take up composition.'"
By the late 80s, Du Yun had come to New York to continue her studies, earning degrees in composition from Oberlin Conservatory and Harvard University. Her principal composition teachers were Bernard Rands, Joshua Fineberg and Mario Davidovsky. In recent years she has been the recipient of awards, fellowships and commissions including those from the Fromm Foundation, Meet the Composer, American Music Center and the Shanghai New Music Foundation. She was recently selected by Hilary Hahn to write a piece for "In 27 Pieces: The Hilary Hahn Encores," a commissioning project that will produce new works for violin and piano by 26 composers.
In 2006, she joined the composition faculty at the State University of New York-Purchase. Her students, she notes, are quite different than she was. "They have this really laissez-faire attitude," she says. "Which I think is great, actually. In my generation, we had so many people and so few schools. There was no backup option – you just went forward and never took things lightly."
If her composing interests have been unconventional, she says her mentors have always been supportive. "No one objected," she says. "They always said 'Oh, she has her own thing.' I think it's about being genuine. I've never wanted to water it down." In addition to a new album of original pop songs, she's also writing for art exhibitions and experimental theater, and performing the amplified/processed Zheng (a 21-string Chinese zither.)
Inspiration, she notes, has always come from unlikely sources. She recalls a visit to Egypt a few years back; standing on a Cairo rooftop, she heard the call to prayer. "All of a sudden I heard it, from every corner of the city," she says. "It was beautiful. It's funny – our life now is so media-saturated. You can never tell what is real and what is not real. I did skydiving once and when I was in free-fall I thought 'this feels like Disney world!' But in that moment on the roof, it was so real – everyday life, infused with spirituality. That's what moved me."
The experience has become a guiding principle in her composing life. "As an artist, I have to be moved first. Then I can have the capability to move someone else. I never try to use my music to be cool or use new media for its own sake. I don't think that way. It just has to be good."
It's a principle she intends to adhere to, regardless of musical form. "If I did one thing only, I don't think my music would be this lively," she says. "Doing the same thing over and over is a dead end. But if you push back a little bit – this is a very Zen attitude, actually – you see the whole landscape. For me it's that whole scape that I want to see."


Georgia Rowe | May 2, 2011